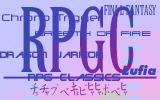 Site Navigation

•RPGClassics Main
•Contact the DB Team!
•Join RPGC

Database Navigation
•Database Index
•Database Staff
•FAQ Submission
•Legalities
•Thanks

Search the Database



Advanced Search

Browse Alphabetically

System Specific
•Apple IIe
•Apple Macintosh
•Arcade
•Commodore 64
•Dreamcast
•Famicom Disk System
•Game Boy (Color)
•Game Boy Advance
•Gamecube
•Game Gear
•Genesis
•MSX
•Nintendo (NES)
•Nintendo 64
•Nintendo DS
•Nokia N-Gage
•PC/Windows
•PC-Engine/TG-16
•Playstation
•Playstation 2
•Sega CD
•Sega Master System
•Sega Saturn
•Super Nintendo
•Turbo Duo
•Wonderswan (Color)
•XBox


Eternal Eyes (PlayStation)
(AKA Koukroseatro)

Developer
Sunsoft
North America
Japan
PAL
Publisher
Crave Entertainment
Sunsoft
Sunsoft
Year
2001
1999
2000
Like this game? Why not shrine it?
---
FAQs and FAQ-Like Information
---
In this game, you play as the hero Luke, who has to save the world from destruction. The story is quite bad, you even know after 5 minutes of playing who the final boss is going to be. Gameplay is pretty bland; thereís almost no interaction with the NPCs and the battle system can be really confusing. You fight your way trough dungeons by using magic and puppets to aid you in battle. The problem is that the system is rather unbalanced, making it difficult to understand what are the best tactics to use. The graphics donít look good; there are almost no facial expressions and the characters look a lot like the ones used in Wild Arms 2.