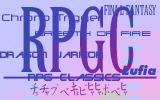 Site Navigation

•RPGClassics Main
•Contact the DB Team!
•Join RPGC

Database Navigation
•Database Index
•Database Staff
•FAQ Submission
•Legalities
•Thanks

Search the Database



Advanced Search

Browse Alphabetically

System Specific
•Apple IIe
•Apple Macintosh
•Arcade
•Commodore 64
•Dreamcast
•Famicom Disk System
•Game Boy (Color)
•Game Boy Advance
•Gamecube
•Game Gear
•Genesis
•MSX
•Nintendo (NES)
•Nintendo 64
•Nintendo DS
•Nokia N-Gage
•PC/Windows
•PC-Engine/TG-16
•Playstation
•Playstation 2
•Sega CD
•Sega Master System
•Sega Saturn
•Super Nintendo
•Turbo Duo
•Wonderswan (Color)
•XBox


King Kong 2 (MSX)
Developer
Konami
North America
Japan
PAL
Publisher
N/A
Konami
N/A
Year
N/A
1986
N/A
Like this game? Why not shrine it?
---
FAQs and FAQ-Like Information
FAQ Name
Author
Version
Size
No FAQs are available for this game.
---
In this early Konami game, you play the role of Mitchell, the man chosen to find the legendary King Kong on a remote tropical island. The game itself is an overhead action-RPG, with a map system that's not unlike The Legend of Zelda's. Defeating enemies yields experience points, which help you grow to be more powerful, and money, which you can give to the island natives in return for valuable goods and services. King Kong 2 is no cakewalk. Finding all the many items needed to complete the quest and discovering how exactly to use them is quite difficult, but it makes the game all the more satisfying in the end.