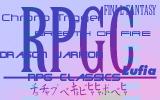 Site Navigation

•RPGClassics Main
•Contact the DB Team!
•Join RPGC

Database Navigation
•Database Index
•Database Staff
•FAQ Submission
•Legalities
•Thanks

Search the Database



Advanced Search

Browse Alphabetically

System Specific
•Apple IIe
•Apple Macintosh
•Arcade
•Commodore 64
•Dreamcast
•Famicom Disk System
•Game Boy (Color)
•Game Boy Advance
•Gamecube
•Game Gear
•Genesis
•MSX
•Nintendo (NES)
•Nintendo 64
•Nintendo DS
•Nokia N-Gage
•PC/Windows
•PC-Engine/TG-16
•Playstation
•Playstation 2
•Sega CD
•Sega Master System
•Sega Saturn
•Super Nintendo
•Turbo Duo
•Wonderswan (Color)
•XBox


Dragon Quest IV (PlayStation)
Developer
Heartbeat
North America
Japan
PAL
Publisher
N/A
Enix
N/A
Year
N/A
2002
N/A
See also: Dragon Warrior IV (NES)Like this game? Why not shrine it?
---
FAQs and FAQ-Like Information
FAQ Name
Author
Version
Size
No FAQs are available for this game.
---
Another adventure in this classic series. This time you take on the role of several characters. Every chapter of the game has a new leading character, but after a while, you will only play as the Hero, a young boy who has to save the world. Gameplay hasnít really changed, you fight your enemies in a turn based battle system in first person view. Every character has itís own job, which comes with itís own specific abilities. Warriors only know how to attack, but magicians and the Hero learn powerful magic while they level up.