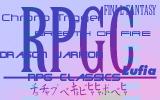 Site Navigation

•RPGClassics Main
•Contact the DB Team!
•Join RPGC

Database Navigation
•Database Index
•Database Staff
•FAQ Submission
•Legalities
•Thanks

Search the Database



Advanced Search

Browse Alphabetically

System Specific
•Apple IIe
•Apple Macintosh
•Arcade
•Commodore 64
•Dreamcast
•Famicom Disk System
•Game Boy (Color)
•Game Boy Advance
•Gamecube
•Game Gear
•Genesis
•MSX
•Nintendo (NES)
•Nintendo 64
•Nintendo DS
•Nokia N-Gage
•PC/Windows
•PC-Engine/TG-16
•Playstation
•Playstation 2
•Sega CD
•Sega Master System
•Sega Saturn
•Super Nintendo
•Turbo Duo
•Wonderswan (Color)
•XBox


Meet the Database "Squadron"!
Database Executive Staff
| | |
| --- | --- |
| Merlin | Maintains the Database, calms Alexandria, and whines to Cid when he can't fix something or wants to make things more difficult :P |
| Cidolfas | Database Code and PHP 1337-Guru-Master-Insert-More-Cool-Titles-Here |
Database Squads -- Current Staffers asterisked
Gold Squadron -- Existing Games from M-Z

Gold Leader: Epicgamer*
Ackbar*
VickiMints
Charlemagne
Rudora

Blue Squadron -- Game Abstracts and Screenshots

Blue Leader: Tenchimaru Draconis*
Esedess
Mabatsekker
Nulani
Peter Krupers

Green Squadron -- Games Missing from the Database

Green Leader: ClothHat*
Kyuuken
Green Mage
Xelopheris
X_countryguy
These Staffers Also Occasionally Work on the DB
| | |
| --- | --- |
| Cless Alvein | Does miscellaneous work |
| Ezboarder | Does miscellaneous work |
| Hiryuu | Concentrates on generally obscure games. |
| Mr. Saturn | Concentrates on publisher and developer information. |
| Mazrim Taim | Original Database Designer and Co-Creator, but not associated with the DB much anymore. |
| Teran | Concentrates on PC games |


(c)2006 RPGClassics.com. All materials are copyrighted by their respective authors. All games mentioned in this site are copyrighted by their respective producers and publishers. No infringement on any existing copyright is intended. All rights reserved.