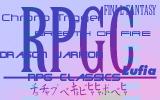 Site Navigation

•RPGClassics Main
•Contact the DB Team!
•Join RPGC

Database Navigation
•Database Index
•Database Staff
•FAQ Submission
•Legalities
•Thanks

Search the Database



Advanced Search

Browse Alphabetically

System Specific
•Apple IIe
•Apple Macintosh
•Arcade
•Commodore 64
•Dreamcast
•Famicom Disk System
•Game Boy (Color)
•Game Boy Advance
•Gamecube
•Game Gear
•Genesis
•MSX
•Nintendo (NES)
•Nintendo 64
•Nintendo DS
•Nokia N-Gage
•PC/Windows
•PC-Engine/TG-16
•Playstation
•Playstation 2
•Sega CD
•Sega Master System
•Sega Saturn
•Super Nintendo
•Turbo Duo
•Wonderswan (Color)
•XBox


Dragon Quest Monsters 1 & 2 (PlayStation)
Developer
Enix
North America
Japan
PAL
Publisher
N/A
Enix
N/A
Year
N/A
2002
N/A
The games contained in this title are:
---
FAQs and FAQ-Like Information
FAQ Name
Author
Version
Size
No FAQs are available for this game.
---
DQ Monsters is a compilation of two old gameboy color games. These games play a lot like pokemon. You part on a quest to save your sisters by fighting in tournaments with your monsters. These monsters can be acquired by joining you after a fight. You just fight your way trough dungeons, collecting more and stronger monsters. When you think you're strong enough, you can fight in the tournaments to progress the story. The monster graphics in battle look pretty good, but on the world map they look a bit too blocky. The replay value is also rather good, if you want to catch all the monsters.