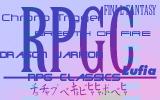 Site Navigation

•RPGClassics Main
•Contact the DB Team!
•Join RPGC

Database Navigation
•Database Index
•Database Staff
•FAQ Submission
•Legalities
•Thanks

Search the Database



Advanced Search

Browse Alphabetically

System Specific
•Apple IIe
•Apple Macintosh
•Arcade
•Commodore 64
•Dreamcast
•Famicom Disk System
•Game Boy (Color)
•Game Boy Advance
•Gamecube
•Game Gear
•Genesis
•MSX
•Nintendo (NES)
•Nintendo 64
•Nintendo DS
•Nokia N-Gage
•PC/Windows
•PC-Engine/TG-16
•Playstation
•Playstation 2
•Sega CD
•Sega Master System
•Sega Saturn
•Super Nintendo
•Turbo Duo
•Wonderswan (Color)
•XBox


Castlevania: Symphony of the Night (PlayStation)
Developer
Konami
North America
Japan
PAL
Publisher
Konami
Konami
Konami
Year
1997
1997
1997
Alternate Releases:
Castlevania: Symphony of the Night (Saturn)
Developer
Konami
North America
Japan
PAL
Publisher
Konami
Konami
N/A
Year
1998
1998
N/A
---
FAQs and FAQ-Like Information
RPGClassics Castlevania: Symphony of the Night Shrine
---
This is a combination of a platform game and a RPG. You fight once again to defeat Count Dracula. You have the basic RPG elements, like different weapons and stat increases, but you also have a lot of platform action. Graphically, the game looks very much like a SNES game, but the characters and enemies are beautifully designed. One disadvantage is the voice acting, the voices sound horrible and they donít fit with the characters. There is also a lot of replay value, you can just defeat the final boss, but there are many secret passages and even a secret castle to explore.