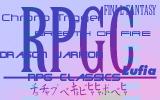 Site Navigation

•RPGClassics Main
•Contact the DB Team!
•Join RPGC

Database Navigation
•Database Index
•Database Staff
•FAQ Submission
•Legalities
•Thanks

Search the Database



Advanced Search

Browse Alphabetically

System Specific
•Apple IIe
•Apple Macintosh
•Arcade
•Commodore 64
•Dreamcast
•Famicom Disk System
•Game Boy (Color)
•Game Boy Advance
•Gamecube
•Game Gear
•Genesis
•MSX
•Nintendo (NES)
•Nintendo 64
•Nintendo DS
•Nokia N-Gage
•PC/Windows
•PC-Engine/TG-16
•Playstation
•Playstation 2
•Sega CD
•Sega Master System
•Sega Saturn
•Super Nintendo
•Turbo Duo
•Wonderswan (Color)
•XBox


Star Wars Knights of the Old Republic II: The Sith Lords (XBox)
Developer
Bioware
North America
Japan
PAL
Publisher
LucasArts
LucasArts
Year
2004
2005
Alternate Releases:
Star Wars Knights of the Old Republic II: The Sith Lords (PC)
Developer
Bioware
North America
Japan
PAL
Publisher
LucasArts
LucasArts
Year
2005
2005
Like this game? Why not shrine it?
---
FAQs and FAQ-Like Information
FAQ Name
Author
Version
Size
No FAQs are available for this game.
---
No additional information is available for this game.