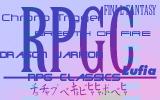 Site Navigation

•RPGClassics Main
•Contact the DB Team!
•Join RPGC

Database Navigation
•Database Index
•Database Staff
•FAQ Submission
•Legalities
•Thanks

Search the Database



Advanced Search

Browse Alphabetically

System Specific
•Apple IIe
•Apple Macintosh
•Arcade
•Commodore 64
•Dreamcast
•Famicom Disk System
•Game Boy (Color)
•Game Boy Advance
•Gamecube
•Game Gear
•Genesis
•MSX
•Nintendo (NES)
•Nintendo 64
•Nintendo DS
•Nokia N-Gage
•PC/Windows
•PC-Engine/TG-16
•Playstation
•Playstation 2
•Sega CD
•Sega Master System
•Sega Saturn
•Super Nintendo
•Turbo Duo
•Wonderswan (Color)
•XBox


Crystalis (NES)
(AKA God Slayer)

Developer
SNK
North America
Japan
PAL
Publisher
Nintendo
SNK
N/A
Year
1990
1990
N/A
Alternate Releases:
Crystalis (GBC)
Developer
North America
Japan
PAL
Publisher
Year
---
FAQs and FAQ-Like Information
RPGClassics Crystalis Shrine
---
An RPG that you can actually jump in. One of those games alot of people missed out on or one of the better kept secrets. Crystalis was a very weapon strategy based game. You had to have certain swords to damage certain creatures or to pass through barriers. The graphics aren't anything amazing but the music is rather good for an early nintendo game. The game play is action based with leveling and equipment changing sort of like an early Diablo.