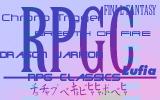 Site Navigation

•RPGClassics Main
•Contact the DB Team!
•Join RPGC

Database Navigation
•Database Index
•Database Staff
•FAQ Submission
•Legalities
•Thanks

Search the Database



Advanced Search

Browse Alphabetically

System Specific
•Apple IIe
•Apple Macintosh
•Arcade
•Commodore 64
•Dreamcast
•Famicom Disk System
•Game Boy (Color)
•Game Boy Advance
•Gamecube
•Game Gear
•Genesis
•MSX
•Nintendo (NES)
•Nintendo 64
•Nintendo DS
•Nokia N-Gage
•PC/Windows
•PC-Engine/TG-16
•Playstation
•Playstation 2
•Sega CD
•Sega Master System
•Sega Saturn
•Super Nintendo
•Turbo Duo
•Wonderswan (Color)
•XBox


Threads of Fate (PlayStation)
(AKA Dewprism)

Developer
North America
Japan
PAL
Publisher
Year
View this game's shrine in progress.
---
FAQs and FAQ-Like Information
FAQ Name
Author
Version
Size
No FAQs are available for this game.
---
One of those underrated realtime RPGs that are really hard to find. You get the choice between two main characters, Rue and Mint, each with their own side stories. Although these stories arenít very original their fun. Rue uses mostly physical attacks, and he can morph into the different monster that he has defeated. Mint is faster but physically weaker, and mainly uses magic to attack. Thereís a large variety of spells, and some of them are very original. Unfortunately the game is really short, but there is some replay value with the double storyline.