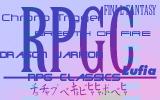 Site Navigation

•RPGClassics Main
•Contact the DB Team!
•Join RPGC

Database Navigation
•Database Index
•Database Staff
•FAQ Submission
•Legalities
•Thanks

Search the Database



Advanced Search

Browse Alphabetically

System Specific
•Apple IIe
•Apple Macintosh
•Arcade
•Commodore 64
•Dreamcast
•Famicom Disk System
•Game Boy (Color)
•Game Boy Advance
•Gamecube
•Game Gear
•Genesis
•MSX
•Nintendo (NES)
•Nintendo 64
•Nintendo DS
•Nokia N-Gage
•PC/Windows
•PC-Engine/TG-16
•Playstation
•Playstation 2
•Sega CD
•Sega Master System
•Sega Saturn
•Super Nintendo
•Turbo Duo
•Wonderswan (Color)
•XBox


Chrono Trigger (Super Nintendo)
Developer
Square
North America
Japan
PAL
Publisher
Square
Square
N/A
Year
1995
1995
N/A
Alternate Releases:
Chrono Trigger (PSX)
Developer
Squaresoft
North America
Japan
PAL
Publisher
N/A
Squaresoft
N/A
Year
N/A
1999
N/A
---
FAQs and FAQ-Like Information
RPGClassics Chrono Trigger Shrine
---
One of the most well known RPG's of all time. Your adventure begins by sleeping late then rushing off to the millenium fair in which your best friend hurls you and a princess through time. Now you stuggle to get home and stay out of trouble. With its Active Battle System, Single and Team techniques, plus and assorment of great character its hard to not enjoy this game. The music is fantasic and usually very upbeat. If your looking for something old that will feel refreshing or new this is more then likely your game.