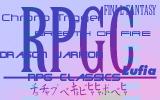 Site Navigation

•RPGClassics Main
•Contact the DB Team!
•Join RPGC

Database Navigation
•Database Index
•Database Staff
•FAQ Submission
•Legalities
•Thanks

Search the Database



Advanced Search

Browse Alphabetically

System Specific
•Apple IIe
•Apple Macintosh
•Arcade
•Commodore 64
•Dreamcast
•Famicom Disk System
•Game Boy (Color)
•Game Boy Advance
•Gamecube
•Game Gear
•Genesis
•MSX
•Nintendo (NES)
•Nintendo 64
•Nintendo DS
•Nokia N-Gage
•PC/Windows
•PC-Engine/TG-16
•Playstation
•Playstation 2
•Sega CD
•Sega Master System
•Sega Saturn
•Super Nintendo
•Turbo Duo
•Wonderswan (Color)
•XBox


Arc the Lad II (PlayStation)
Developer
Arc Entertainment
North America
Japan
PAL
Publisher
SCEI
SCEI
N/A
Year
1996
1996
N/A
Like this game? Why not shrine it?
---
FAQs and FAQ-Like Information
---
The second instalment of the series is even better than the first one. The game is a direct sequel of the first, but the story is much better. One of the main problems of the first game was the repetitiveness; there were no shops, world maps or side quests. This has all been improved. You now have a game that takes at least 60 hours of gameplay, with lots of side quests. One of the coolest features is that you can import your characters from the first game with an old save file, which is really neat. The graphics havenít really improved, but the music is even better than in the first game.