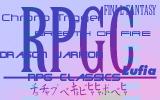 Site Navigation

•RPGClassics Main
•Contact the DB Team!
•Join RPGC

Database Navigation
•Database Index
•Database Staff
•FAQ Submission
•Legalities
•Thanks

Search the Database



Advanced Search

Browse Alphabetically

System Specific
•Apple IIe
•Apple Macintosh
•Arcade
•Commodore 64
•Dreamcast
•Famicom Disk System
•Game Boy (Color)
•Game Boy Advance
•Gamecube
•Game Gear
•Genesis
•MSX
•Nintendo (NES)
•Nintendo 64
•Nintendo DS
•Nokia N-Gage
•PC/Windows
•PC-Engine/TG-16
•Playstation
•Playstation 2
•Sega CD
•Sega Master System
•Sega Saturn
•Super Nintendo
•Turbo Duo
•Wonderswan (Color)
•XBox


Atelier Marie Plus (PlayStation)
Developer
Gust
North America
Japan
PAL
Publisher
N/A
Gust
N/A
Year
N/A
1998
N/A
Like this game? Why not shrine it?
---
FAQs and FAQ-Like Information
FAQ Name
Author
Version
Size
No FAQs are available for this game.
---
An obscure Japanese RPG thatís really cute. You take on the role of Marlone, a young girl that has to take on the job of running an item shop. She has to create these items by finding their recipes in reference books, scattered around the world. Off course, to make an item you need ingredients. These can be bought in shops, or they have to be found in the outside world. Since youíre only a little girl you have to hire warriors to protect you on your quest. The gameplay is original, but all the ingredient searching can get a bit too repetitive.