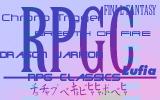 Site Navigation

•RPGClassics Main
•Contact the DB Team!
•Join RPGC

Database Navigation
•Database Index
•Database Staff
•FAQ Submission
•Legalities
•Thanks

Search the Database



Advanced Search

Browse Alphabetically

System Specific
•Apple IIe
•Apple Macintosh
•Arcade
•Commodore 64
•Dreamcast
•Famicom Disk System
•Game Boy (Color)
•Game Boy Advance
•Gamecube
•Game Gear
•Genesis
•MSX
•Nintendo (NES)
•Nintendo 64
•Nintendo DS
•Nokia N-Gage
•PC/Windows
•PC-Engine/TG-16
•Playstation
•Playstation 2
•Sega CD
•Sega Master System
•Sega Saturn
•Super Nintendo
•Turbo Duo
•Wonderswan (Color)
•XBox


Bastard!! (PlayStation)
Developer
Seta Corporation
North America
Japan
PAL
Publisher
N/A
Seta Corporation
N/A
Year
N/A
1996
N/A
Like this game? Why not shrine it?
---
FAQs and FAQ-Like Information
---
Bastard!! is a game based on the popular manga of the same name. You take on the role of Dark Schneider, an evil wizard who parts on a quest to regain back his memory. The gameplay isnít really deep, you just go from one boss to another. You have tons of magic moves to use in battle and you can even combine them to create devastating spells. One major disadvantage is that the game was only aimed at the readers of the manga, so if you havenít read the manga, you wonít understand anything of the characters and the background story.