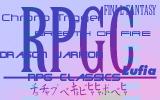 Site Navigation

•RPGClassics Main
•Contact the DB Team!
•Join RPGC

Database Navigation
•Database Index
•Database Staff
•FAQ Submission
•Legalities
•Thanks

Search the Database



Advanced Search

Browse Alphabetically

System Specific
•Apple IIe
•Apple Macintosh
•Arcade
•Commodore 64
•Dreamcast
•Famicom Disk System
•Game Boy (Color)
•Game Boy Advance
•Gamecube
•Game Gear
•Genesis
•MSX
•Nintendo (NES)
•Nintendo 64
•Nintendo DS
•Nokia N-Gage
•PC/Windows
•PC-Engine/TG-16
•Playstation
•Playstation 2
•Sega CD
•Sega Master System
•Sega Saturn
•Super Nintendo
•Turbo Duo
•Wonderswan (Color)
•XBox


Brave Prove (PlayStation)
Developer
Data East
North America
Japan
PAL
Publisher
Data East
Data East
N/A
Year
1998
1998
N/A
Like this game? Why not shrine it?
---
FAQs and FAQ-Like Information
---
In this game, you fight once again to save the world. You can fight with swords and magic. You gain a stronger sword by finding different ores in the game and you strengthen your magic by finding specific gems for each element. Your magic can also be used to give your sword elemental properties. The game isnít very interesting, mainly because itís too short to get into. Itís not quite difficult, an experienced gamer wouldnít like it.