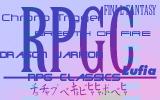 Site Navigation

•RPGClassics Main
•Contact the DB Team!
•Join RPGC

Database Navigation
•Database Index
•Database Staff
•FAQ Submission
•Legalities
•Thanks

Search the Database



Advanced Search

Browse Alphabetically

System Specific
•Apple IIe
•Apple Macintosh
•Arcade
•Commodore 64
•Dreamcast
•Famicom Disk System
•Game Boy (Color)
•Game Boy Advance
•Gamecube
•Game Gear
•Genesis
•MSX
•Nintendo (NES)
•Nintendo 64
•Nintendo DS
•Nokia N-Gage
•PC/Windows
•PC-Engine/TG-16
•Playstation
•Playstation 2
•Sega CD
•Sega Master System
•Sega Saturn
•Super Nintendo
•Turbo Duo
•Wonderswan (Color)
•XBox


Brave Saga (PlayStation)
Developer
Takara
North America
Japan
PAL
Publisher
Takara
Takara
N/A
Year
1998
1998
N/A
Like this game? Why not shrine it?
---
FAQs and FAQ-Like Information
---
Brave Saga is one of those typical giant robot-fighting RPGs. The game mainly focuses on fighting, so there isn't much story. The graphics are quite nice, they even add some anime sequences that are really done well. One of the new features of the game is the library; the game automatically stores every robot animation in the game, which is really nice to look back at. The game tends to get a bit too difficult in boss fights, but as long as you level up, there shouldn't be any problems.