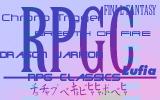 Site Navigation

•RPGClassics Main
•Contact the DB Team!
•Join RPGC

Database Navigation
•Database Index
•Database Staff
•FAQ Submission
•Legalities
•Thanks

Search the Database



Advanced Search

Browse Alphabetically

System Specific
•Apple IIe
•Apple Macintosh
•Arcade
•Commodore 64
•Dreamcast
•Famicom Disk System
•Game Boy (Color)
•Game Boy Advance
•Gamecube
•Game Gear
•Genesis
•MSX
•Nintendo (NES)
•Nintendo 64
•Nintendo DS
•Nokia N-Gage
•PC/Windows
•PC-Engine/TG-16
•Playstation
•Playstation 2
•Sega CD
•Sega Master System
•Sega Saturn
•Super Nintendo
•Turbo Duo
•Wonderswan (Color)
•XBox


Chocobo's Dungeon (PlayStation)
Developer
Square
North America
Japan
PAL
Publisher
Square
Square
N/A
Year
1997
1997
N/A
Like this game? Why not shrine it?
---
FAQs and FAQ-Like Information
---
One of the older Square games for the Playstation, featuring everyone's favourite mascot, a chocobo who parts on a quest to destroy an evil crystal. You only have one dungeon in the entire game, divided into different floors. This style resembles Diablo a lot, but the battle system is the typical ATB system also known from Final Fantasy. Graphically, the game looks ok, but not really Square quality. The spell effects and CG movies look great, but the characters sprites look bland, and the backgrounds aren't too good either.