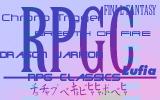 Site Navigation

•RPGClassics Main
•Contact the DB Team!
•Join RPGC

Database Navigation
•Database Index
•Database Staff
•FAQ Submission
•Legalities
•Thanks

Search the Database



Advanced Search

Browse Alphabetically

System Specific
•Apple IIe
•Apple Macintosh
•Arcade
•Commodore 64
•Dreamcast
•Famicom Disk System
•Game Boy (Color)
•Game Boy Advance
•Gamecube
•Game Gear
•Genesis
•MSX
•Nintendo (NES)
•Nintendo 64
•Nintendo DS
•Nokia N-Gage
•PC/Windows
•PC-Engine/TG-16
•Playstation
•Playstation 2
•Sega CD
•Sega Master System
•Sega Saturn
•Super Nintendo
•Turbo Duo
•Wonderswan (Color)
•XBox


Community Pom (PlayStation)
Developer
Fill-in Café
North America
Japan
PAL
Publisher
Fill-in Café
Fill-in Café
N/A
Year
1997
1997
N/A
Like this game? Why not shrine it?
---
FAQs and FAQ-Like Information
---
In this obscure Japanese RPG, you take on the role as Luru, a girl who has to save the world from destruction. The fighting system is a mix of Zelda and Alundra. In battle, you can call on Poms, small weird creatures that will help you in battle if you attack them. They can support you, or they can attack your enemy. Their attacks also depend on how much they like you so you have to stay friends with them. These poms also have their own village that you have to build and govern, a bit like sim city. Graphically, it looks very colorful but a bit old. Replay value is little, there aren't many side quests.