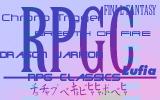 Site Navigation

•RPGClassics Main
•Contact the DB Team!
•Join RPGC

Database Navigation
•Database Index
•Database Staff
•FAQ Submission
•Legalities
•Thanks

Search the Database



Advanced Search

Browse Alphabetically

System Specific
•Apple IIe
•Apple Macintosh
•Arcade
•Commodore 64
•Dreamcast
•Famicom Disk System
•Game Boy (Color)
•Game Boy Advance
•Gamecube
•Game Gear
•Genesis
•MSX
•Nintendo (NES)
•Nintendo 64
•Nintendo DS
•Nokia N-Gage
•PC/Windows
•PC-Engine/TG-16
•Playstation
•Playstation 2
•Sega CD
•Sega Master System
•Sega Saturn
•Super Nintendo
•Turbo Duo
•Wonderswan (Color)
•XBox


Deception (PlayStation)
Developer
Tecmo
North America
Japan
PAL
Publisher
Tecmo
Tecmo
Sun Corp
Year
1996
1996
1997
Like this game? Why not shrine it?
---
FAQs and FAQ-Like Information
---
Lets be Evil. This is your chance to control an entire mansion and place traps galore. An excelent battle system. You can kill,or capture your oppnents. Kill them you regain heatlh and money but by capturing them you can use their parts to make your own monsters. Still an original game I have yet to see any like it outside the series. Decent Graphics, good music, and a pretty good AI. This game stands strong even today.