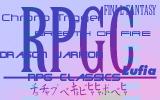 Site Navigation

•RPGClassics Main
•Contact the DB Team!
•Join RPGC

Database Navigation
•Database Index
•Database Staff
•FAQ Submission
•Legalities
•Thanks

Search the Database



Advanced Search

Browse Alphabetically

System Specific
•Apple IIe
•Apple Macintosh
•Arcade
•Commodore 64
•Dreamcast
•Famicom Disk System
•Game Boy (Color)
•Game Boy Advance
•Gamecube
•Game Gear
•Genesis
•MSX
•Nintendo (NES)
•Nintendo 64
•Nintendo DS
•Nokia N-Gage
•PC/Windows
•PC-Engine/TG-16
•Playstation
•Playstation 2
•Sega CD
•Sega Master System
•Sega Saturn
•Super Nintendo
•Turbo Duo
•Wonderswan (Color)
•XBox


Deception II: Kagero (PlayStation)
Developer
Tecmo
North America
Japan
PAL
Publisher
Tecmo
Tecmo
N/A
Year
1998
1998
N/A
Like this game? Why not shrine it?
---
FAQs and FAQ-Like Information
---
In the second installment you play as a prince who is about to be hanged by his own brother, when he gets a proposition from the devil to serve him. You agree, and the devil orders you to kill everyone who is against him. You do this by setting traps for intruders in the devils house. After the trap weakens them, you attack them and murder them. This may sound weird and horrible, but itís actually fun, but unfortunately all the murdering can get a little too repetitive.