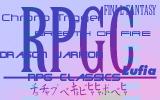 Site Navigation

•RPGClassics Main
•Contact the DB Team!
•Join RPGC

Database Navigation
•Database Index
•Database Staff
•FAQ Submission
•Legalities
•Thanks

Search the Database



Advanced Search

Browse Alphabetically

System Specific
•Apple IIe
•Apple Macintosh
•Arcade
•Commodore 64
•Dreamcast
•Famicom Disk System
•Game Boy (Color)
•Game Boy Advance
•Gamecube
•Game Gear
•Genesis
•MSX
•Nintendo (NES)
•Nintendo 64
•Nintendo DS
•Nokia N-Gage
•PC/Windows
•PC-Engine/TG-16
•Playstation
•Playstation 2
•Sega CD
•Sega Master System
•Sega Saturn
•Super Nintendo
•Turbo Duo
•Wonderswan (Color)
•XBox


Dragon Knight IV (PlayStation)
Developer
Banpresto
North America
Japan
PAL
Publisher
Banpresto
Banpresto
N/A
Year
1997
1997
N/A
Like this game? Why not shrine it?
---
FAQs and FAQ-Like Information
---
An obscure Japanese strategy RPG. You go on a journey to rescue your father, but you end up saving the world from an evil cloud that petrifies everyone. The gameplay is similar to FF Tactics, you give your characters a specific job, and use this to your advantage. You fight your way trough the world and free cities. In these cities, you meet other commanders, and they look really nice! Almost all of the commanders are female, but unfortunately, some scenes have been censored; but it is still nice to see. You can also have different endings in this game; it all depends on what female commander you like the most.