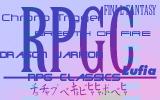 Site Navigation

•RPGClassics Main
•Contact the DB Team!
•Join RPGC

Database Navigation
•Database Index
•Database Staff
•FAQ Submission
•Legalities
•Thanks

Search the Database



Advanced Search

Browse Alphabetically

System Specific
•Apple IIe
•Apple Macintosh
•Arcade
•Commodore 64
•Dreamcast
•Famicom Disk System
•Game Boy (Color)
•Game Boy Advance
•Gamecube
•Game Gear
•Genesis
•MSX
•Nintendo (NES)
•Nintendo 64
•Nintendo DS
•Nokia N-Gage
•PC/Windows
•PC-Engine/TG-16
•Playstation
•Playstation 2
•Sega CD
•Sega Master System
•Sega Saturn
•Super Nintendo
•Turbo Duo
•Wonderswan (Color)
•XBox


Shachou Eiyuuden: The Eagle Shooting Heroes (PlayStation)
(AKA Eagle Shooting Heroes, The)

Developer
SCEI
North America
Japan
PAL
Publisher
N/A
SCEI
N/A
Year
N/A
2000
N/A
Like this game? Why not shrine it?
---
FAQs and FAQ-Like Information
---
One of the first Chinese RPGs on the Playstation. The story is pretty cliché, saving the world, but the characters are interesting. You move around in a FFT way, from one town to another with in each town other areas to explore. Combat in dungeons is turn based. You can use techniques that are randomly learned by equipping specific technique scrolls. One of the frustrating things in this game are the camera views, sometimes you really don't know where you're going. Graphically, it isn't really bad, but it is certainly not up to the current playstation standards.