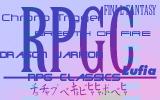 Site Navigation

•RPGClassics Main
•Contact the DB Team!
•Join RPGC

Database Navigation
•Database Index
•Database Staff
•FAQ Submission
•Legalities
•Thanks

Search the Database



Advanced Search

Browse Alphabetically

System Specific
•Apple IIe
•Apple Macintosh
•Arcade
•Commodore 64
•Dreamcast
•Famicom Disk System
•Game Boy (Color)
•Game Boy Advance
•Gamecube
•Game Gear
•Genesis
•MSX
•Nintendo (NES)
•Nintendo 64
•Nintendo DS
•Nokia N-Gage
•PC/Windows
•PC-Engine/TG-16
•Playstation
•Playstation 2
•Sega CD
•Sega Master System
•Sega Saturn
•Super Nintendo
•Turbo Duo
•Wonderswan (Color)
•XBox


Breath of Fire (Super Nintendo)
Developer
Capcom
North America
Japan
PAL
Publisher
Square
Capcom
N/A
Year
1994
1993
N/A
Alternate Releases:
Breath of Fire (GBA)
Developer
Capcom
North America
Japan
PAL
Publisher
Capcom
Capcom
Capcom
Year
2001
2001
2001
---
FAQs and FAQ-Like Information
RPGClassics Breath of Fire Shrine
---
The first installment in this epic series.The game begins with you being the only surviving member of the Light Dragon clan. The Dark Dragon clan is plotting to release an evil goddess and it's up to you to defeat them. Definitly a classic, the graphics still hold as beautiful the gamplay is definitly a ten. The battle system with mid battle swap is still perhaps one of the most original every created.