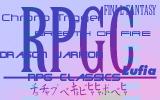 Site Navigation

•RPGClassics Main
•Contact the DB Team!
•Join RPGC

Database Navigation
•Database Index
•Database Staff
•FAQ Submission
•Legalities
•Thanks

Search the Database



Advanced Search

Browse Alphabetically

System Specific
•Apple IIe
•Apple Macintosh
•Arcade
•Commodore 64
•Dreamcast
•Famicom Disk System
•Game Boy (Color)
•Game Boy Advance
•Gamecube
•Game Gear
•Genesis
•MSX
•Nintendo (NES)
•Nintendo 64
•Nintendo DS
•Nokia N-Gage
•PC/Windows
•PC-Engine/TG-16
•Playstation
•Playstation 2
•Sega CD
•Sega Master System
•Sega Saturn
•Super Nintendo
•Turbo Duo
•Wonderswan (Color)
•XBox


Devil Summoner: Soul Hackers (PlayStation)
Developer
Atlus co.
North America
Japan
PAL
Publisher
N/A
Atlus co.
N/A
Year
N/A
1999
N/A
Like this game? Why not shrine it?
---
FAQs and FAQ-Like Information
---
In this obscure Japanese RPG, you play as a hacker in a cyber city. You become a beta tester for a new game that is very much like the matrix. Off course, this canít go right, someone tries to steal your soul, and you suddenly gain the ability to summon devils. Soul hackers is a dungeon crawler; you explore the dungeons from first person view, and the battles are also in first person view. The battles are also something different. You can choose to fight an enemy, or you can ask them to join you. If they accept, you can fuse them with your summons to make them stronger. The game also has a lot of replay value with all the fusing; you also can go to a bonus dungeon after beating the game.