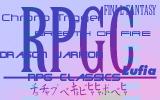 Site Navigation

•RPGClassics Main
•Contact the DB Team!
•Join RPGC

Database Navigation
•Database Index
•Database Staff
•FAQ Submission
•Legalities
•Thanks

Search the Database



Advanced Search

Browse Alphabetically

System Specific
•Apple IIe
•Apple Macintosh
•Arcade
•Commodore 64
•Dreamcast
•Famicom Disk System
•Game Boy (Color)
•Game Boy Advance
•Gamecube
•Game Gear
•Genesis
•MSX
•Nintendo (NES)
•Nintendo 64
•Nintendo DS
•Nokia N-Gage
•PC/Windows
•PC-Engine/TG-16
•Playstation
•Playstation 2
•Sega CD
•Sega Master System
•Sega Saturn
•Super Nintendo
•Turbo Duo
•Wonderswan (Color)
•XBox


Final Fantasy VII (PlayStation)
Developer
Square
North America
Japan
PAL
Publisher
SCEA
Square
SCEE
Year
1997
1997
1997
Alternate Releases:
Final Fantasy VII International (PSX)
Developer
Square
North America
Japan
PAL
Publisher
N/A
Square
N/A
Year
N/A
1997
N/A
Final Fantasy VII (PC)
Developer
North America
Japan
PAL
Publisher
Year
---
FAQs and FAQ-Like Information
RPGClassics Final Fantasy VII Shrine
---
The scenery of this game is a world depending on an energy company that is slowly draining the life energy of the planet. You join a resistance group that wants to stop the company's domination, but things get complicated when a mythical warrior summons a giant meteor to destroy the planet. The game has an impressive cast of characters, and it features some of the most dramatic scenes in any game. You learn magic by junctioning material, crystallized planet energy, to your weapons and armor. You can also pummel your enemies to oblivion by using limit breaks, attacks that slowly build up after being attacked by the enemy. The game also features some great side quests, and some super hard extra bosses.