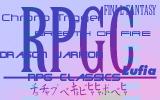 Site Navigation

•RPGClassics Main
•Contact the DB Team!
•Join RPGC

Database Navigation
•Database Index
•Database Staff
•FAQ Submission
•Legalities
•Thanks

Search the Database



Advanced Search

Browse Alphabetically

System Specific
•Apple IIe
•Apple Macintosh
•Arcade
•Commodore 64
•Dreamcast
•Famicom Disk System
•Game Boy (Color)
•Game Boy Advance
•Gamecube
•Game Gear
•Genesis
•MSX
•Nintendo (NES)
•Nintendo 64
•Nintendo DS
•Nokia N-Gage
•PC/Windows
•PC-Engine/TG-16
•Playstation
•Playstation 2
•Sega CD
•Sega Master System
•Sega Saturn
•Super Nintendo
•Turbo Duo
•Wonderswan (Color)
•XBox


Breath of Fire II (Super Nintendo)
Developer
Capcom
North America
Japan
PAL
Publisher
Capcom
Capcom
Capcom
Year
1995
1994
1995
Alternate Releases:
Breath of Fire II (GBA)
Developer
Capcom
North America
Japan
PAL
Publisher
Capcom
Capcom
Capcom
Year
2002
2001
2002
---
FAQs and FAQ-Like Information
RPGClassics Breath of Fire II Shrine
---
Breath of Fire II is Capcom's sequel to its previous RPG, Breath of Fire I. Breath of Fire II has great animation in its battles and features many unique playable characters with their own personalities, including a kind-hearted horse-man, a happy-go-lucky prince frog, and a mysterious young man linked with dragons. The game has many features, of which include a character emotion indicator that appears sometimes during dialogue that displays the mood of the character and many mini-games and side quests (like building up your own town!). The music in the Breath of Fire series is unique and very much suited for the scenes, and the scenes and animation picturesque.