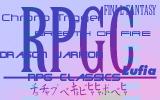 Site Navigation

•RPGClassics Main
•Contact the DB Team!
•Join RPGC

Database Navigation
•Database Index
•Database Staff
•FAQ Submission
•Legalities
•Thanks

Search the Database



Advanced Search

Browse Alphabetically

System Specific
•Apple IIe
•Apple Macintosh
•Arcade
•Commodore 64
•Dreamcast
•Famicom Disk System
•Game Boy (Color)
•Game Boy Advance
•Gamecube
•Game Gear
•Genesis
•MSX
•Nintendo (NES)
•Nintendo 64
•Nintendo DS
•Nokia N-Gage
•PC/Windows
•PC-Engine/TG-16
•Playstation
•Playstation 2
•Sega CD
•Sega Master System
•Sega Saturn
•Super Nintendo
•Turbo Duo
•Wonderswan (Color)
•XBox


Final Fantasy VIII (PlayStation)
Developer
SquareSoft
North America
Japan
PAL
Publisher
SquareSoft
SquareSoft
Square
Year
1999
1999
1999
Alternate Releases:
Final Fantasy VIII (PC)
Developer
North America
Japan
PAL
Publisher
Year
---
FAQs and FAQ-Like Information
RPGClassics Final Fantasy VIII Shrine
---
You begin as Squall, a cadet from a Garden, an elite mercenary group, who gets involved in a war with devastating consequences. This is the first FF that introduces a new use for the summon creatures, called Guardian Forces. You can teach them supportive skills, and you can junction them to characters to enhance their stats. You learn magic by drawing it from your enemies. You no longer need MP to cast it, it all depends on how many spells you have in stock. You can also use them to increase your stats by junctioning them. You no longer buy weapons in stores; you create them yourself by combining items you got from enemies.