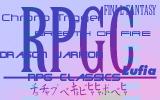 Site Navigation

•RPGClassics Main
•Contact the DB Team!
•Join RPGC

Database Navigation
•Database Index
•Database Staff
•FAQ Submission
•Legalities
•Thanks

Search the Database



Advanced Search

Browse Alphabetically

System Specific
•Apple IIe
•Apple Macintosh
•Arcade
•Commodore 64
•Dreamcast
•Famicom Disk System
•Game Boy (Color)
•Game Boy Advance
•Gamecube
•Game Gear
•Genesis
•MSX
•Nintendo (NES)
•Nintendo 64
•Nintendo DS
•Nokia N-Gage
•PC/Windows
•PC-Engine/TG-16
•Playstation
•Playstation 2
•Sega CD
•Sega Master System
•Sega Saturn
•Super Nintendo
•Turbo Duo
•Wonderswan (Color)
•XBox


Rhapsody: A Musical Adventure (PlayStation)
(AKA Adventure of Puppet Princess)

Developer
Nippon Ichi Software
North America
Japan
PAL
Publisher
Atlus co.
Nippon Ichi Software
N/A
Year
2000
1998
N/A
This game is currently being shrined by our staff.
---
FAQs and FAQ-Like Information
---
Rhapsody is a really short and funny RPG about a girl who is trying to find her prince. Itís a tactical RPG, but it is one of the easiest games out there, I think. You just go from a town to a dungeon, fight some pathetically weak enemies, and you go back to town and everything gets repeated. The game also allows you to capture monsters, but this doesnít really add anything to the replay value. You could easily finish the game in only 10 hours.