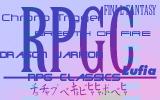 Site Navigation

•RPGClassics Main
•Contact the DB Team!
•Join RPGC

Database Navigation
•Database Index
•Database Staff
•FAQ Submission
•Legalities
•Thanks

Search the Database



Advanced Search

Browse Alphabetically

System Specific
•Apple IIe
•Apple Macintosh
•Arcade
•Commodore 64
•Dreamcast
•Famicom Disk System
•Game Boy (Color)
•Game Boy Advance
•Gamecube
•Game Gear
•Genesis
•MSX
•Nintendo (NES)
•Nintendo 64
•Nintendo DS
•Nokia N-Gage
•PC/Windows
•PC-Engine/TG-16
•Playstation
•Playstation 2
•Sega CD
•Sega Master System
•Sega Saturn
•Super Nintendo
•Turbo Duo
•Wonderswan (Color)
•XBox


Final Fantasy Chronicles (PlayStation)
Developer
Square
North America
Japan
PAL
Publisher
Square EA
N/A
N/A
Year
2001
N/A
N/A
The games contained in this title are:
---
FAQs and FAQ-Like Information
FAQ Name
Author
Version
Size
No FAQs are available for this game.
---
A compilation featuring two of Square Softs best games; Chrono Trigger and Final Fantasy IV. In FF IV you play as the dark knight Cecil who goes on a quest for his own truth. It was also a game that featured a terrific story with great characters. Each character had its own unique abilities, and became stronger while leveling up. Chrono Trigger also had a terrific story, and used a great battle system that involved using individual techniques or combinations with other characters. It was also one of the earliest games that featured multiple endings. Both of the games have new FMVs, and Chrono Trigger has a huge Extras Gallery.