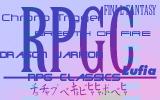 Site Navigation

•RPGClassics Main
•Contact the DB Team!
•Join RPGC

Database Navigation
•Database Index
•Database Staff
•FAQ Submission
•Legalities
•Thanks

Search the Database



Advanced Search

Browse Alphabetically

System Specific
•Apple IIe
•Apple Macintosh
•Arcade
•Commodore 64
•Dreamcast
•Famicom Disk System
•Game Boy (Color)
•Game Boy Advance
•Gamecube
•Game Gear
•Genesis
•MSX
•Nintendo (NES)
•Nintendo 64
•Nintendo DS
•Nokia N-Gage
•PC/Windows
•PC-Engine/TG-16
•Playstation
•Playstation 2
•Sega CD
•Sega Master System
•Sega Saturn
•Super Nintendo
•Turbo Duo
•Wonderswan (Color)
•XBox


Arc the Lad Collection (PlayStation)
Developer
Arc Entertainment
North America
Japan
PAL
Publisher
Working Designs
N/A
N/A
Year
2002
N/A
N/A
The games contained in this title are:
---
FAQs and FAQ-Like Information
FAQ Name
Author
Version
Size
No FAQs are available for this game.
---
This is an exclusive package for America, that contains the three Arc the Lad games and many bonuses. You have a special Battle Arena disc, on which you can fight the different monsters in the game, which is hard but fun. You get a special "making of" and some cardboard figures, featuring the main characters. This is all presented in a beautiful box that is really worth your money. For descriptions of the games, look at their titles in the RPGC Database.