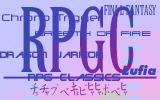 Site Navigation

•RPGClassics Main
•Contact the DB Team!
•Join RPGC

Database Navigation
•Database Index
•Database Staff
•FAQ Submission
•Legalities
•Thanks

Search the Database



Advanced Search

Browse Alphabetically

System Specific
•Apple IIe
•Apple Macintosh
•Arcade
•Commodore 64
•Dreamcast
•Famicom Disk System
•Game Boy (Color)
•Game Boy Advance
•Gamecube
•Game Gear
•Genesis
•MSX
•Nintendo (NES)
•Nintendo 64
•Nintendo DS
•Nokia N-Gage
•PC/Windows
•PC-Engine/TG-16
•Playstation
•Playstation 2
•Sega CD
•Sega Master System
•Sega Saturn
•Super Nintendo
•Turbo Duo
•Wonderswan (Color)
•XBox


.hack//INFECTION (PlayStation 2)
Developer
Cyber Connect 2
North America
Japan
PAL
Publisher
Bandai
Bandai
Atari
Year
2003
2002
2004
See also: .hack//MUTATION (PS2), .hack//OUTBREAK (PS2), .hack//QUARANTINE (PS2)Like this game? Why not shrine it?
---
FAQs and FAQ-Like Information
---
.Hack// is a four part game series starting off with a bang with INFECTION. It's a complete MMORPG that's not online. You can talk to other players, send e-mail, and even read and post forums. Now besides the interesting new gameplay, the graphics are astounding. The story line is a precursor to the series, and it's all highly addictive. The only downfall of it all is that INFECTION is only about 20 hours or so long and that's with getting almost everything in the game. If you're looking for a fast and excellent RPG this is it.