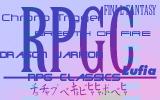 Site Navigation

•RPGClassics Main
•Contact the DB Team!
•Join RPGC

Database Navigation
•Database Index
•Database Staff
•FAQ Submission
•Legalities
•Thanks

Search the Database



Advanced Search

Browse Alphabetically

System Specific
•Apple IIe
•Apple Macintosh
•Arcade
•Commodore 64
•Dreamcast
•Famicom Disk System
•Game Boy (Color)
•Game Boy Advance
•Gamecube
•Game Gear
•Genesis
•MSX
•Nintendo (NES)
•Nintendo 64
•Nintendo DS
•Nokia N-Gage
•PC/Windows
•PC-Engine/TG-16
•Playstation
•Playstation 2
•Sega CD
•Sega Master System
•Sega Saturn
•Super Nintendo
•Turbo Duo
•Wonderswan (Color)
•XBox


Alundra (PlayStation)
Developer
Matrix Software
North America
Japan
PAL
Publisher
Working Designs
SCEI
Psygnosis
Year
1997
1997
1998
Like this game? Why not shrine it?
---
FAQs and FAQ-Like Information
---
In this game, you play the role of Alundra, a boy who has the power to go into people's dreams to help them get rid of their nightmares. You fight your way through the dreams by using a real-time battle system, much like Zelda or Secret of Mana. One of the downsides is that the controls react really slowly and that the fighting gets constantly interrupted by some hard and annoying puzzles. Graphically, the game is very good, it gives you a clear view of everything, but the music is horrible. You'll get sick of hearing the same songs over and over.