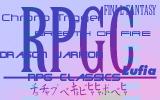 Site Navigation

•RPGClassics Main
•Contact the DB Team!
•Join RPGC

Database Navigation
•Database Index
•Database Staff
•FAQ Submission
•Legalities
•Thanks

Search the Database



Advanced Search

Browse Alphabetically

System Specific
•Apple IIe
•Apple Macintosh
•Arcade
•Commodore 64
•Dreamcast
•Famicom Disk System
•Game Boy (Color)
•Game Boy Advance
•Gamecube
•Game Gear
•Genesis
•MSX
•Nintendo (NES)
•Nintendo 64
•Nintendo DS
•Nokia N-Gage
•PC/Windows
•PC-Engine/TG-16
•Playstation
•Playstation 2
•Sega CD
•Sega Master System
•Sega Saturn
•Super Nintendo
•Turbo Duo
•Wonderswan (Color)
•XBox


Arc the Lad (PlayStation)
Developer
Arc Entertainment
North America
Japan
PAL
Publisher
SCEI
SCEI
N/A
Year
1995
1995
N/A
Like this game? Why not shrine it?
---
FAQs and FAQ-Like Information
---
Arc the Lad was one of the first tactical RPGs for the PlayStation. You play as a boy named Arc, who goes on a quest to defeat an evil demon. The story is good, but it ends in a real "To be continued" style, so you really want to buy the sequel. The gameplay consists of the basic tactic battle system, not very new. Itís a shame that there arenít many side quests, because the game is really short: about 15 hours. One of the major selling points for the game are the 2D graphics, amazing in the time the game was released.