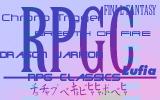 Site Navigation

•RPGClassics Main
•Contact the DB Team!
•Join RPGC

Database Navigation
•Database Index
•Database Staff
•FAQ Submission
•Legalities
•Thanks

Search the Database



Advanced Search

Browse Alphabetically

System Specific
•Apple IIe
•Apple Macintosh
•Arcade
•Commodore 64
•Dreamcast
•Famicom Disk System
•Game Boy (Color)
•Game Boy Advance
•Gamecube
•Game Gear
•Genesis
•MSX
•Nintendo (NES)
•Nintendo 64
•Nintendo DS
•Nokia N-Gage
•PC/Windows
•PC-Engine/TG-16
•Playstation
•Playstation 2
•Sega CD
•Sega Master System
•Sega Saturn
•Super Nintendo
•Turbo Duo
•Wonderswan (Color)
•XBox


Alundra II (PlayStation)
Developer
Contrail
North America
Japan
PAL
Publisher
Activision
SCEI
Activision
Year
2000
1999
2000
Like this game? Why not shrine it?
---
FAQs and FAQ-Like Information
---
The second game of the series is not as good as the first one. You play as Flint, a swordsman hired to free the Varuna Kingdom from an evil baron. The story is nice, but unfortunately, a bit cliché. The fighting system looks a lot like the one from Alundra, but it has some new elements. You can now learn magic by using different rings that you can level up. The game also has many mini games that add more replay value. The developers switched from 2D to 3D graphics, which is a real improvement.