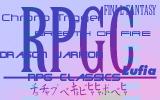 Site Navigation

•RPGClassics Main
•Contact the DB Team!
•Join RPGC

Database Navigation
•Database Index
•Database Staff
•FAQ Submission
•Legalities
•Thanks

Search the Database



Advanced Search

Browse Alphabetically

System Specific
•Apple IIe
•Apple Macintosh
•Arcade
•Commodore 64
•Dreamcast
•Famicom Disk System
•Game Boy (Color)
•Game Boy Advance
•Gamecube
•Game Gear
•Genesis
•MSX
•Nintendo (NES)
•Nintendo 64
•Nintendo DS
•Nokia N-Gage
•PC/Windows
•PC-Engine/TG-16
•Playstation
•Playstation 2
•Sega CD
•Sega Master System
•Sega Saturn
•Super Nintendo
•Turbo Duo
•Wonderswan (Color)
•XBox


Brave Fencer Musashi (PlayStation)
Developer
Square
North America
Japan
PAL
Publisher
Square
Square
N/A
Year
1998
1998
N/A
Like this game? Why not shrine it?
---
FAQs and FAQ-Like Information
---
Brave Fencer Musashi is one of the funniest RPGs for the PlayStation. You play as the hero Musashi, who has to save his princess from an evil empire. You have two swords, the Fusion and the Lumina. The Fusion can be used to absorb an enemy power and the Lumina is your attack blade that can be powered up by freeing people who were kidnapped by the empire. You can also buy toys from a special shop. You can even play with them in your castle! The game is really fun to play, you'll want to play it over and over.