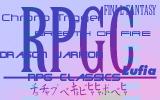 Site Navigation

•RPGClassics Main
•Contact the DB Team!
•Join RPGC

Database Navigation
•Database Index
•Database Staff
•FAQ Submission
•Legalities
•Thanks

Search the Database



Advanced Search

Browse Alphabetically

System Specific
•Apple IIe
•Apple Macintosh
•Arcade
•Commodore 64
•Dreamcast
•Famicom Disk System
•Game Boy (Color)
•Game Boy Advance
•Gamecube
•Game Gear
•Genesis
•MSX
•Nintendo (NES)
•Nintendo 64
•Nintendo DS
•Nokia N-Gage
•PC/Windows
•PC-Engine/TG-16
•Playstation
•Playstation 2
•Sega CD
•Sega Master System
•Sega Saturn
•Super Nintendo
•Turbo Duo
•Wonderswan (Color)
•XBox


Arc the Lad III (PlayStation)
Developer
Arc Entertainment
North America
Japan
PAL
Publisher
SCEI
SCEI
N/A
Year
1999
1999
N/A
Like this game? Why not shrine it?
---
FAQs and FAQ-Like Information
---
The third game of the series is a bit of a disappointment after the previous ones. The story uses a mission-based structure. You are a young member of the hunters guild, who goes on an adventure to save the world. One of the most disappointing aspects of the game is the battle system; it isnít really changed but it gets too repetitive, because you have to level up a lot. One of the major improvements are the graphics, they are now in full 3D. This isnít a bad game, itís just not as good as the previous ones.