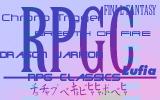 Site Navigation

•RPGClassics Main
•Contact the DB Team!
•Join RPGC

Database Navigation
•Database Index
•Database Staff
•FAQ Submission
•Legalities
•Thanks

Search the Database



Advanced Search

Browse Alphabetically

System Specific
•Apple IIe
•Apple Macintosh
•Arcade
•Commodore 64
•Dreamcast
•Famicom Disk System
•Game Boy (Color)
•Game Boy Advance
•Gamecube
•Game Gear
•Genesis
•MSX
•Nintendo (NES)
•Nintendo 64
•Nintendo DS
•Nokia N-Gage
•PC/Windows
•PC-Engine/TG-16
•Playstation
•Playstation 2
•Sega CD
•Sega Master System
•Sega Saturn
•Super Nintendo
•Turbo Duo
•Wonderswan (Color)
•XBox


Blaze & Blade (PlayStation)
Developer
T&E Soft
North America
Japan
PAL
Publisher
Funsoft
T&E Soft
Funsoft
Year
1998
1998
1999
Alternate Releases:
Blaze & Blade (PC)
Developer
North America
Japan
PAL
Publisher
Year
Like this game? Why not shrine it?
---
FAQs and FAQ-Like Information
---
B&B is an RPG that resembles Diablo a lot. You fight your way through many dungeons, trying to save the world. There isnít much interaction with the NPCs as the game mainly focuses on the battling. The battle controls are easy, a lot like Alundra, but the menu controls are awful. Youíll waist too much time just searching for the right page, which gets really frustrating. Another problem is saving; you fight 5 levels in a dungeon, you save and when you want to play again you have to go through the 5 levels again, as if you never saved.