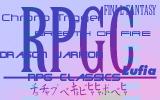 Site Navigation

•RPGClassics Main
•Contact the DB Team!
•Join RPGC

Database Navigation
•Database Index
•Database Staff
•FAQ Submission
•Legalities
•Thanks

Search the Database



Advanced Search

Browse Alphabetically

System Specific
•Apple IIe
•Apple Macintosh
•Arcade
•Commodore 64
•Dreamcast
•Famicom Disk System
•Game Boy (Color)
•Game Boy Advance
•Gamecube
•Game Gear
•Genesis
•MSX
•Nintendo (NES)
•Nintendo 64
•Nintendo DS
•Nokia N-Gage
•PC/Windows
•PC-Engine/TG-16
•Playstation
•Playstation 2
•Sega CD
•Sega Master System
•Sega Saturn
•Super Nintendo
•Turbo Duo
•Wonderswan (Color)
•XBox


Chocobo's Dungeon II (PlayStation)
Developer
Square
North America
Japan
PAL
Publisher
Square
Square
N/A
Year
1999
1998
N/A
Like this game? Why not shrine it?
---
FAQs and FAQ-Like Information
---
The second instalment wasnít a big improvement. The gameplay hasnít really changed, you still fight your way trough random dungeons, but now you can find more items, and you can combine your weapons to make them stronger. The story tells about a chocobo and a moogle, who want to go look for treasures, so it isnít too original. The game is more challenging, and it will get frustrating at times, but it is still easy and it can be finished in a few hours. Graphically, not much has changed, the character designs are a bit improved, and the spell effects look just as great as in the previous game.