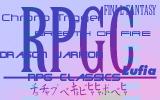 Site Navigation

•RPGClassics Main
•Contact the DB Team!
•Join RPGC

Database Navigation
•Database Index
•Database Staff
•FAQ Submission
•Legalities
•Thanks

Search the Database



Advanced Search

Browse Alphabetically

System Specific
•Apple IIe
•Apple Macintosh
•Arcade
•Commodore 64
•Dreamcast
•Famicom Disk System
•Game Boy (Color)
•Game Boy Advance
•Gamecube
•Game Gear
•Genesis
•MSX
•Nintendo (NES)
•Nintendo 64
•Nintendo DS
•Nokia N-Gage
•PC/Windows
•PC-Engine/TG-16
•Playstation
•Playstation 2
•Sega CD
•Sega Master System
•Sega Saturn
•Super Nintendo
•Turbo Duo
•Wonderswan (Color)
•XBox


Digimon World 2 (PlayStation)
Developer
Bandai
North America
Japan
PAL
Publisher
Bandai
Bandai
N/A
Year
2001
2000
N/A
Like this game? Why not shrine it?
---
FAQs and FAQ-Like Information
---
The game based on the popular anime isnít that great. You donít really have a story, you just collect more and more digimon. Graphically the game is ok, the digimon look good, but there isnít much detail. The real problem is the gameplay; the loading times are just too long. A fight against a weak enemy can easily take five minutes, just because it takes too long to load. Battling isnít really original; you just attack with your digimon, but you can fuse them for one battle with another one to make them stronger. There is a lot of replay value, especially with all the digimon you can catch.