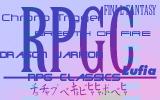 Site Navigation

•RPGClassics Main
•Contact the DB Team!
•Join RPGC

Database Navigation
•Database Index
•Database Staff
•FAQ Submission
•Legalities
•Thanks

Search the Database



Advanced Search

Browse Alphabetically

System Specific
•Apple IIe
•Apple Macintosh
•Arcade
•Commodore 64
•Dreamcast
•Famicom Disk System
•Game Boy (Color)
•Game Boy Advance
•Gamecube
•Game Gear
•Genesis
•MSX
•Nintendo (NES)
•Nintendo 64
•Nintendo DS
•Nokia N-Gage
•PC/Windows
•PC-Engine/TG-16
•Playstation
•Playstation 2
•Sega CD
•Sega Master System
•Sega Saturn
•Super Nintendo
•Turbo Duo
•Wonderswan (Color)
•XBox


Beyond the Beyond (PlayStation)
Developer
Camelot Co. Ltd.
North America
Japan
PAL
Publisher
SCEA
SCEI
N/A
Year
1996
1995
N/A
Like this game? Why not shrine it?
---
FAQs and FAQ-Like Information
---
Beyond the Beyond is one of the earlier PlayStation RPGs that most people didnít like. You are a hero who is trying to save the world, so nothing new with the story. One of the main problems with the game is the difficulty. The dungeons are huge and the enemies are really hard, so you have to spend hours of levelling up before you go into a new dungeon. Another disadvantage is the length; you could easily finish the game in 15 hours, with all the secret characters and all the sidequests.