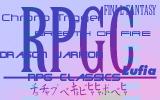 Site Navigation

•RPGClassics Main
•Contact the DB Team!
•Join RPGC

Database Navigation
•Database Index
•Database Staff
•FAQ Submission
•Legalities
•Thanks

Search the Database



Advanced Search

Browse Alphabetically

System Specific
•Apple IIe
•Apple Macintosh
•Arcade
•Commodore 64
•Dreamcast
•Famicom Disk System
•Game Boy (Color)
•Game Boy Advance
•Gamecube
•Game Gear
•Genesis
•MSX
•Nintendo (NES)
•Nintendo 64
•Nintendo DS
•Nokia N-Gage
•PC/Windows
•PC-Engine/TG-16
•Playstation
•Playstation 2
•Sega CD
•Sega Master System
•Sega Saturn
•Super Nintendo
•Turbo Duo
•Wonderswan (Color)
•XBox


Digimon World 3 (PlayStation)
Developer
Bandai
North America
Japan
PAL
Publisher
Bandai
Bandai
Bandai
Year
2002
2002
2002
Like this game? Why not shrine it?
---
FAQs and FAQ-Like Information
---
In the new Digimon game, you enter an online Digimon game with your friends. Unfortunately, the game is hacked and you have to stay inside. You're okay with this, because you can keep playing the game, for free. Graphically, everything outside the battles looks very detailed, but in a battle the graphics look terrible. The gameplay is fun. You just fight to level up your digimon, and after gaining some levels, you get access to new areas; after all it is an online game. You can buy or find stronger equipment for your digimon, so you can customize it. There is also a card game, which is actually quite original, so it also adds some replay.