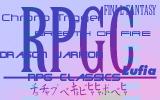 Site Navigation

•RPGClassics Main
•Contact the DB Team!
•Join RPGC

Database Navigation
•Database Index
•Database Staff
•FAQ Submission
•Legalities
•Thanks

Search the Database



Advanced Search

Browse Alphabetically

System Specific
•Apple IIe
•Apple Macintosh
•Arcade
•Commodore 64
•Dreamcast
•Famicom Disk System
•Game Boy (Color)
•Game Boy Advance
•Gamecube
•Game Gear
•Genesis
•MSX
•Nintendo (NES)
•Nintendo 64
•Nintendo DS
•Nokia N-Gage
•PC/Windows
•PC-Engine/TG-16
•Playstation
•Playstation 2
•Sega CD
•Sega Master System
•Sega Saturn
•Super Nintendo
•Turbo Duo
•Wonderswan (Color)
•XBox


Azure Dreams (PlayStation)
Developer
Konami
North America
Japan
PAL
Publisher
Konami
Konami
Konami
Year
1998
1997
1998
Like this game? Why not shrine it?
---
FAQs and FAQ-Like Information
---
An RPG with a rather cliché story, you start a quest to search for your father who has disappeared in a huge tower. It consists mainly of climbing the tower, while fighting on every floor. You find specific monsters in the tower that can become your allies by raising them in your village. During your quest, you're going to have to rebuild your town to trigger certain story events. Unfortunately, you don't have much freedom to build what you want. You can also date girls, but this isn't really a big part of the game. The graphics look good for its time, but the music is just horrible.