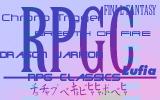 Site Navigation

•RPGClassics Main
•Contact the DB Team!
•Join RPGC

Database Navigation
•Database Index
•Database Staff
•FAQ Submission
•Legalities
•Thanks

Search the Database



Advanced Search

Browse Alphabetically

System Specific
•Apple IIe
•Apple Macintosh
•Arcade
•Commodore 64
•Dreamcast
•Famicom Disk System
•Game Boy (Color)
•Game Boy Advance
•Gamecube
•Game Gear
•Genesis
•MSX
•Nintendo (NES)
•Nintendo 64
•Nintendo DS
•Nokia N-Gage
•PC/Windows
•PC-Engine/TG-16
•Playstation
•Playstation 2
•Sega CD
•Sega Master System
•Sega Saturn
•Super Nintendo
•Turbo Duo
•Wonderswan (Color)
•XBox


Breath of Fire III (PlayStation)
Developer
Capcom
North America
Japan
PAL
Publisher
Capcom
Capcom
Atari
Year
1998
1997
1998
Alternate Releases:
Breath of Fire III (PSP)
Developer
Capcom
North America
Japan
PAL
Publisher
Capcom
Capcom
Year
2005
2006
View this game's shrine in progress.
---
FAQs and FAQ-Like Information
---
The first PlayStation BoF is one of the best. You play as Ryu, a boy who discovers his dragon powers and who departs on a quest to discover the truth about himself. Various comrades, who each have their unique abilities in battle, join him. Your characters learn abilities by levelling up or by learning them from masters, people who teach you what they know after gaining enough levels. Graphically, the game looks very cartoonish, but really nice, the light effects are great. This is just a really fun game to play, itís really worth your money.